This post is also available in: 日本語
Introduction
I think the time will come sooner or later to think about monetizing blog and site management such as advertising revenue.
Advertising is the king of monetization, but Google AdSense is the bigger one.
In this article, we introduce the basics of monetization from Google Adsense screening.
What is Google AdSense?
Google AdSense is an advertising monetization service provided by Google.
You can earn ad revenue by posting AdSense ads on your blog or site.
About Adsense Revenue
Describes AdSense revenue.
The basic idea is that as the site's PV goes up, so does the revenue.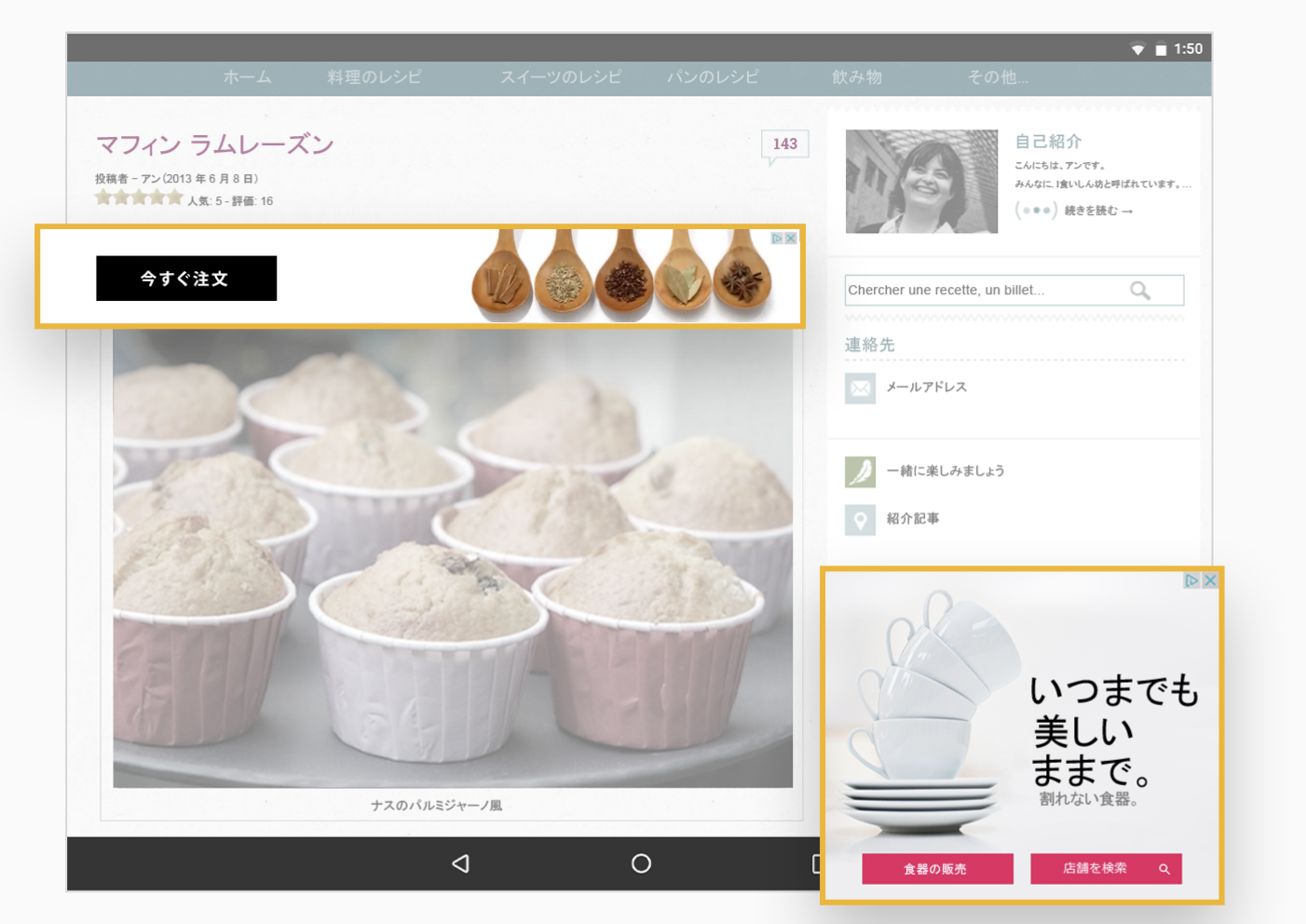 There are three main revenue categories:.
Revenue for the page views
return on the click
Revenue from video playback
It can be said that the high unit price is the click.
Basically, as page views increase, clicks occur at a certain rate.
The unit price of page view is about 0.1 ~ 0.5 yen, but the unit price of click will increase from 20 yen to 100 yen.
AdSense launch requires review
AdSense is a much better tool for monetizing your site, but it's not easy for everyone to start.
To register in Adsense, you need to be screened.
I need my site
Also, you need your own media and blog as a major premise of the screening.
You can't deal with it on twitter or Facebook page, so you need to make your own site that has a domain and a contract with a server.
Preparations for Adsense Review
If you create a website and submit it without any contents, you will lose a high probability.
Ideally, it will be necessary to create content without advertising and produce results for a certain period of time.
However, to what extent should we produce results? As you may have a question like that, I have compiled the minimum necessary preparations for the examination.
This line is different depending on the media, so please think that it is just a guide, not a line that says it is always okay.
More than 10 pieces of content
10,000 characters or more in total
Keep content updated for about 2 weeks
Things to be careful about because there is a high possibility of being rejected in the examination.
Even if there are enough contents, there are cases that they don't pass the screening.
It is a violation of Google's content policy.
Content Policy
adult content
Adult topics included in family content
Dangerous or offensive content
Dangerous drugs and drug-related content
Content related to alcohol
Content related to tobacco products
Content related to gambling and games
Content related to healthcare
Content related to hacking and cracking
Pages offering compensation programs
Content related to incorrect display
shocking content
Weapons and Weapons Related Content
Content that encourages cheating
illegal content
Advertising Policy
Advertising policies must be viewed in conjunction with content policies.
This is a policy that governs how the site operates by intentionally making the ads easy to click, or making the usability of the site extremely low to make them click.
Here are a few key points:.
Avoiding false clicks
Quote:

Encouraging users to click on Google ads is unacceptable in any way. This includes placing ads in ways that may be mistaken for other site content, such as menus, navigation, or download links.
unnatural appeal of the ad
Quote:Unnecessary or artificial appeals to Google ads are prohibited.
For example:.
In summary, you need to be careful that "don't cheat and display ads unnaturally".
Please note that it is prohibited to change the policy after passing the examination.
Adsense Review Flow
Here is a brief overview of the actual audit flow.
Go to Site

Go to the AdSense page.
Log in to your Google account
You will be prompted to enter your Google account.
It's a Google service, so you must have a Google account.
If you don't have it, make it first.
Enter site information
Enter site information.
Agree to the terms of use on the next screen.
Enter Payment Information
Then enter payment information.
Please enter your own information without fail.
Entering Phone Numbers
Then enter the phone number. Don't make any mistakes here.
There is one point to be careful about.
The mobile phone number is to enter the country code "+ 81".
For example, "090" is "+ 8190".
Link a site to AdSense
Finally, there is the task of linking a site to AdSense.
"It must be pasted into the customer's HTML (Between </ head> and <head> tags)." is the instruction of Adsense, but in particular, we do the following.
*The installation by word press is assumed.
Open the word press management screen and go to "Appearance" > "Theme Editor".
Click on the word "header.php" from the right side.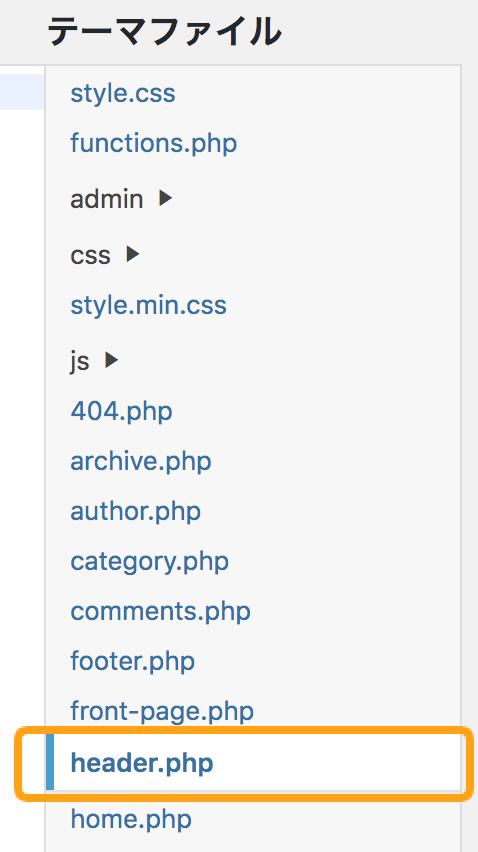 Use control + F or command + F to search for "/ head".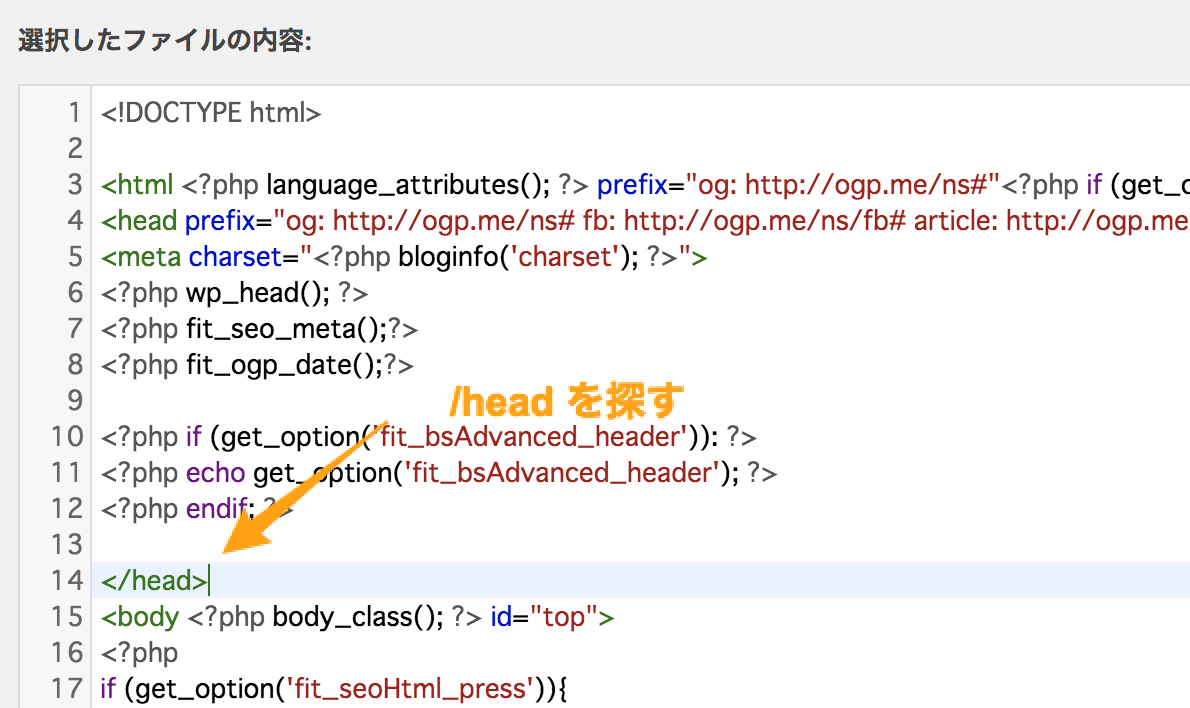 Copy and paste the code just before/head is found.
Update and close the file after confirming the copy paste.
If you return to the Adsense screen and press Finish, the examination will be finished for the time being.
Standard waiting time for examination
The waiting time for the examination seems to vary depending on the person.
When I search on twitter, some people finish screening within a few days and some people wait for a few weeks.
Let's pray for passing the examination and wait first.
If you pass the screening, you will receive an email notifying you of the completion of the Adsense approval process. I'm so happy.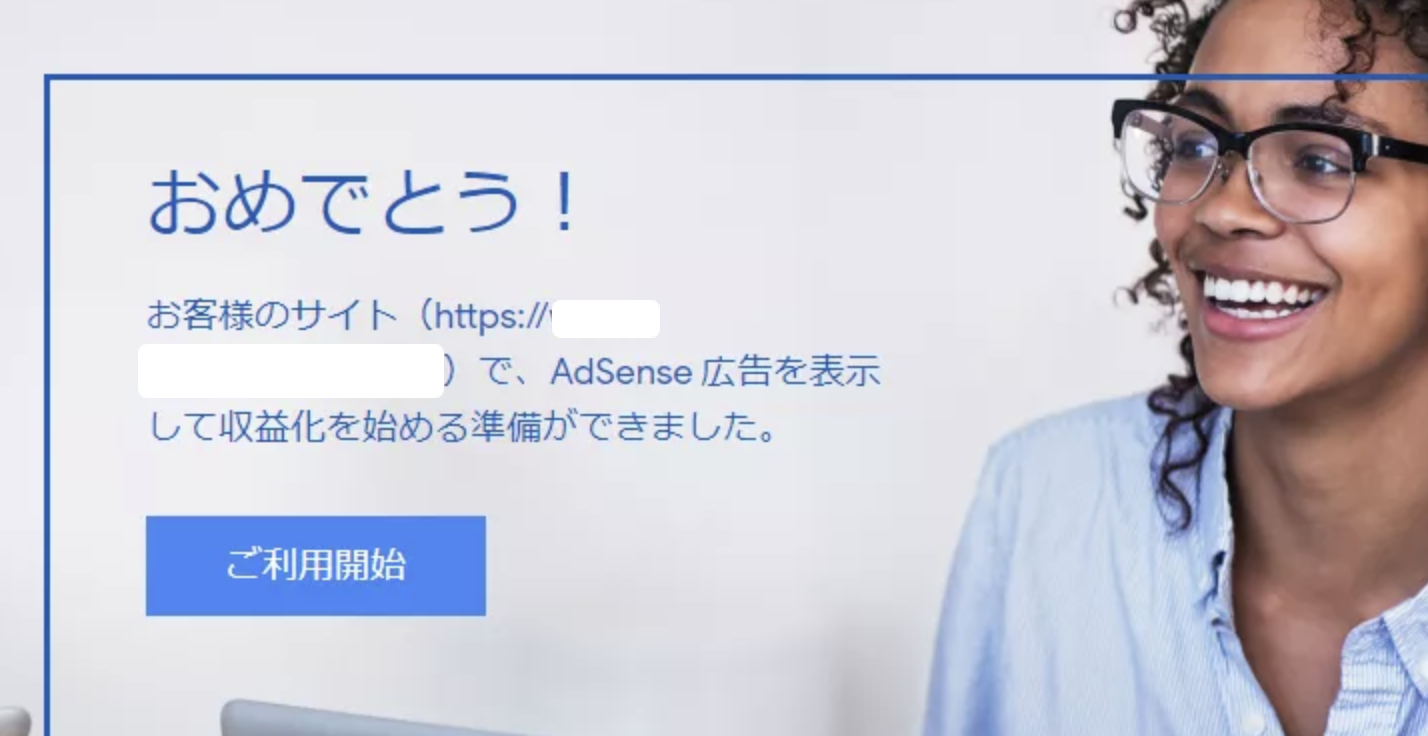 Basic AdSense Usage
Learn the basics of using Google AdSense.
Create an ad unit

Basically, we think by the unit of advertisement.
There are big following kinds.
display advertising
in-feed advertising
in-line advertising
Related Content (* It will appear after a certain operation.)
For example, select Display Ad.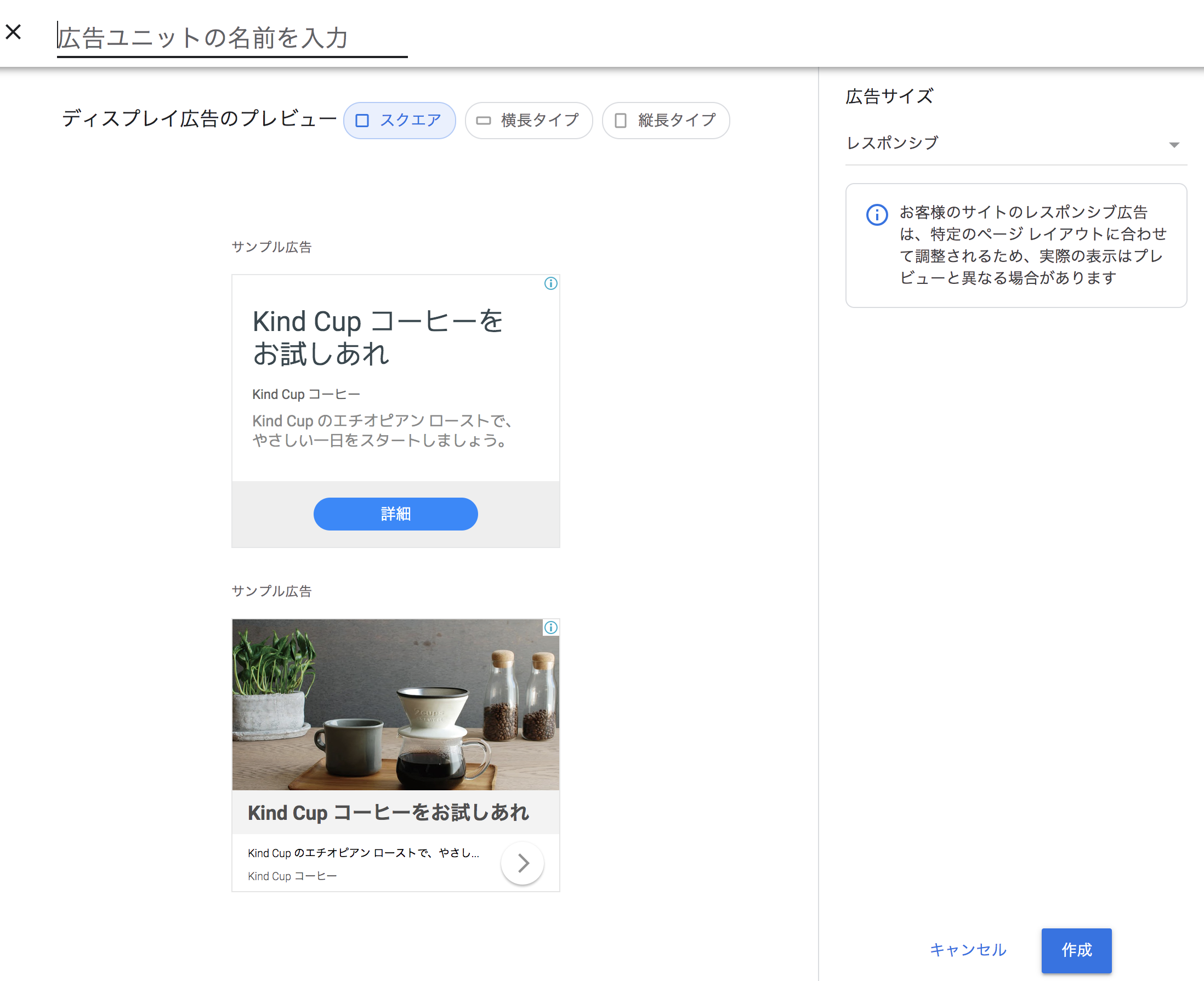 Type the name of the ad and size it.
Responsive is the recommended size.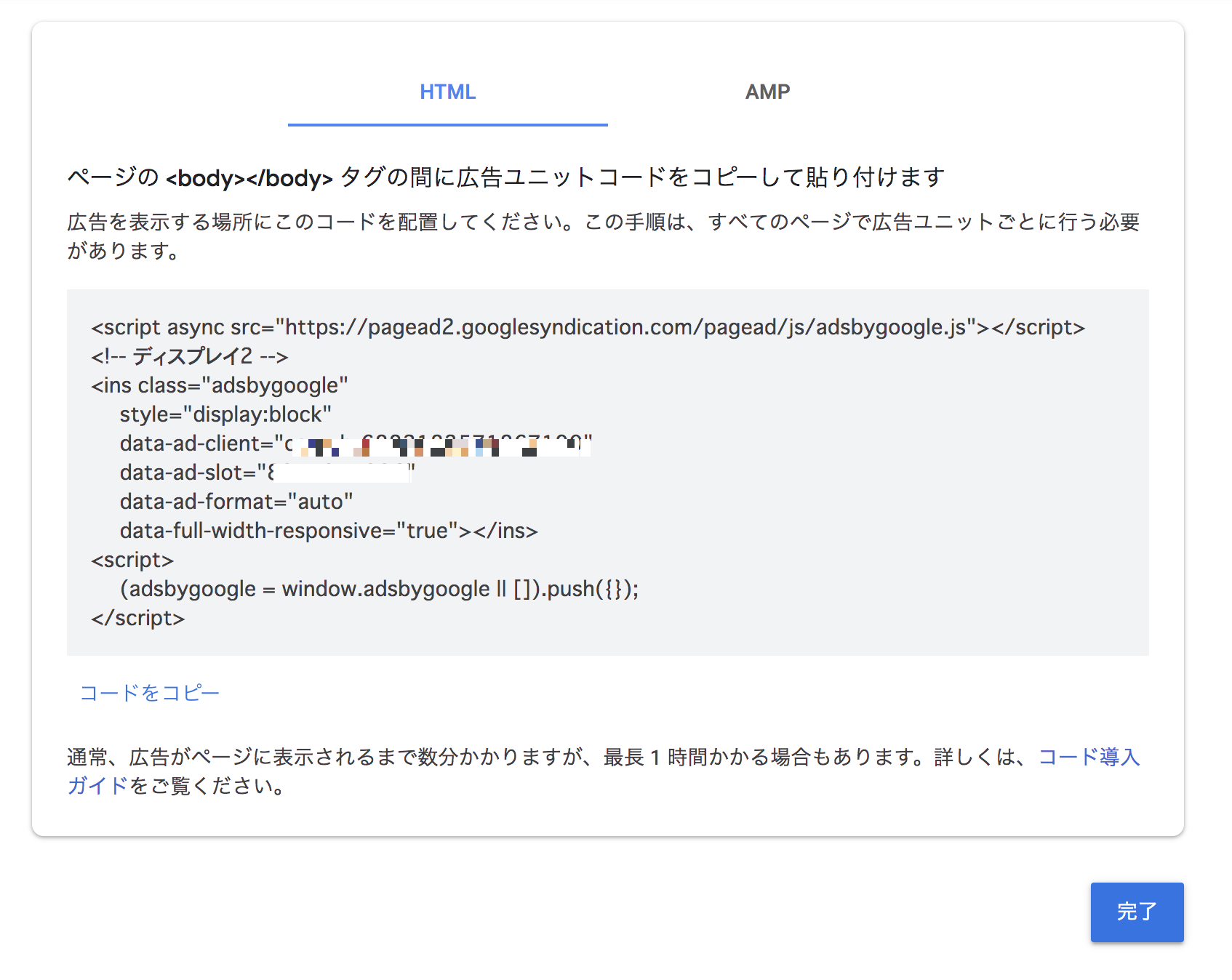 Copy and paste the code where you want to place the ad and you're done.
The advertisement will appear in about 15 minutes.
Check the status of the advertisement on the control screen.
You can check the status of the advertisement on the Adsense Dashboard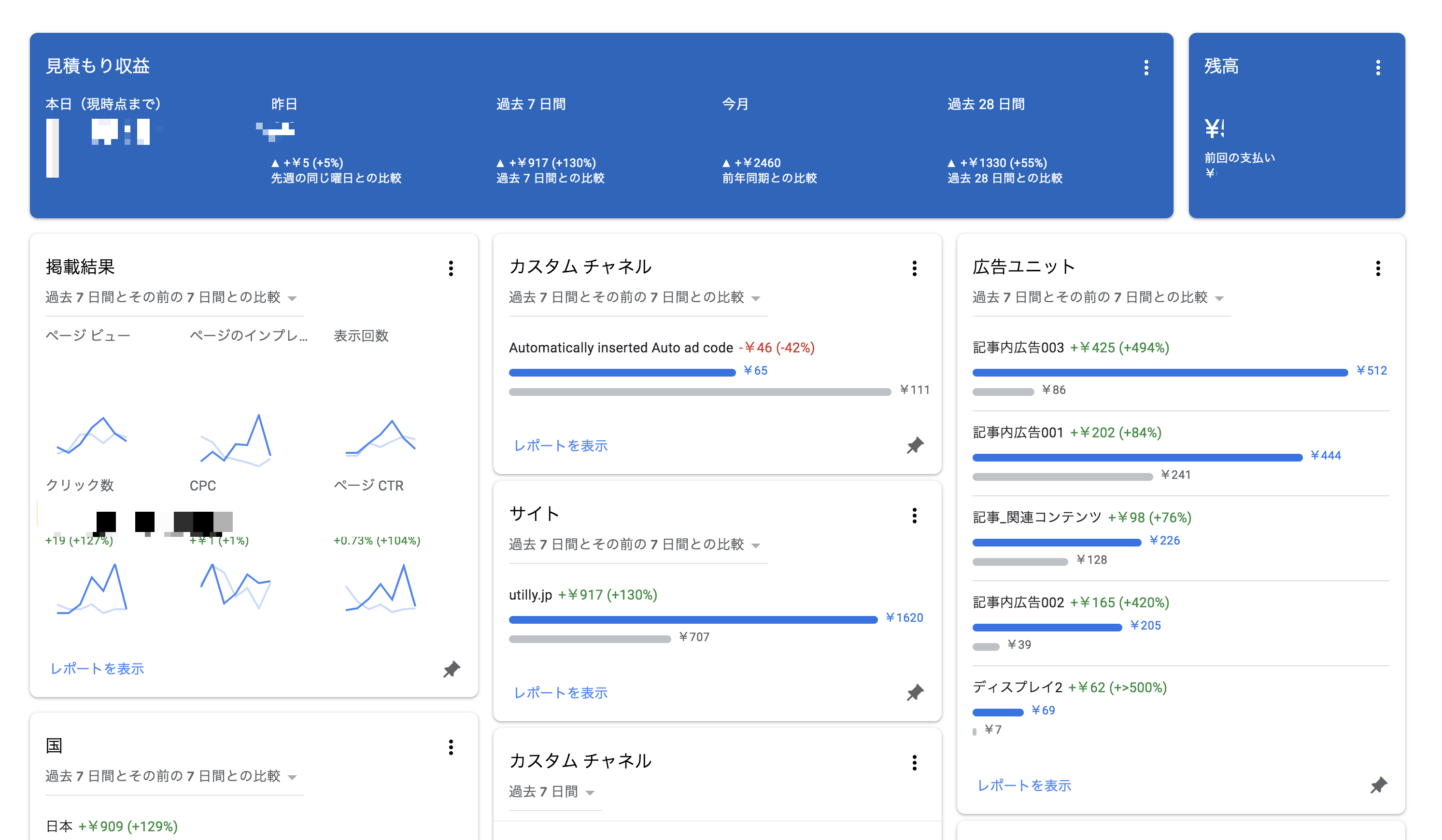 Which ads are more profitable?
What's the revenue today?
Which pages are more profitable?
and so on.
To be honest, how much money do you make?
Google Adsense also has a broad range of prices.
The basic idea is that 1 PV is worth roughly 0.5 yen.
1 PV = 0.5 Yen
So multiply that by the PV and you get the value of most sites.
For example, if the following is your monthly PV, you can maintain your monthly profitability.
This is the result of all the clicks.
1,000 PV = \500
10,000 PV = \5,000
100,000 PV = \50,000
1 million PV = \500,000
10 million PV = \5 million
From this market rate, we can increase profitability by increasing CTR and taking various measures.
I think we can say that profitability is increasing exponentially since we will receive more inquiries for net advertising after we reach 100,000 page.
Increasing Profitability
Affiliates are one way to increase profitability.
Affiliates are a method called performance-based advertising, in which you receive a reward when you register an advertiser's product or service through an ad on your site.
Affiliates are also essential for monetization.
You can also find articles about affiliate and affiliate service providers in Utilities.
Accommodate ads.text
Of the accounts that already have Google AdSense installed, some will show "Ads.txt Warning" from Google.
If you neglect to deal with it, the advertisement might stop because it is a big event, so we recommend you to deal with it.
For more information, please refer to the Utility.
How to respond to ads.txt warnings in Google Adsense with WordPress built on Google Cloud Platform.
And finally,
This concludes the AdSense article.
There are many marketing-related articles in Utility.
Check out the full article below.
10 free services you'll definitely want to use when you start marketing