This post is also available in: 日本語
Introduction
There are only a limited number of one-stop services, including project management, bug management, and version management, both in Japan and overseas. In this article, we introduce Backlog, one of the few Japanese project management tools.

What is Backlog?
Backlog is a project management tool developed by Nulab as a team collaboration tool. It is the largest project management tool in Japan and is used in a wide range of fields, from development to marketing to human resources and general affairs. It has the convenience of being able to use not only the browser but also applications such as iOS and Android in one stop.

Backlogの事例
Backlogは錚々たる国内の大企業でも利用実績があります。例えば、KDDI、ソフトバンク、日本経済新聞、docomoなどの大企業から、Adobeなどのテクノロジー企業まで多くの利用実績があります。
Backlog Case Study
Backlog has been used by many Japanese companies. For example, it has been used by many companies such as KDDI, Softbank, Nikkei, docomo, and technology companies such as Adobe.

Backlog Pricing
Here is Backlog's pricing structure. Backlog has two plans, a cloud plan and an on-premise plan. This entry basically explains the cloud type plan.
There are 4 cloud plans, from 2,400 yen/month starter plan to 50,000 yen/month platinum plan. The main differences are capacity, access restrictions, and support.

Each plan comes with a 30 day free trial period. You don't need payment information, so you can use it for 30 days to decide whether to sign up or not.

How to register Backlog
Describes how to register Backlog.
You can register for Backlog from the sign-up page below.

You can easily start by entering the name, email address, and password of a space in your project.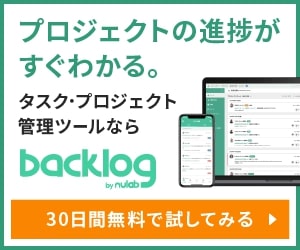 From completion of registration to start of use
When the registration of the mail address is completed, a pop-up appears.
Register the project name here. A project key is like a shortcut key for a project.

When you finish inviting members, the following is the main page.

Using Backlog
Once you've signed up for Backlog, you can use it for your project.
Backlog is structured as "Project" > "Challenges". Each task of the project is registered as an assignment. You can assign deadlines and people to assignments.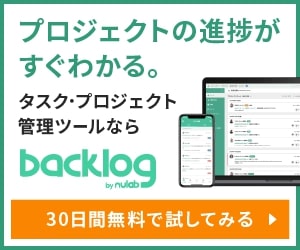 Add an issue
Add assignments from "Add Issue" to each project. Enter the following information on the task input screen.
Select a Task Type Issue Name, Enter Details Priority Category Deadline Contact Milestone Occurred Version

Once you have added an issue, you can view the status of the issue in the dashboard.
Typically, a project consists of several issues, so you can see the progress of each issue categorized by status and category.



Visualize project progress with a Gantt chart
You can view your assignments in a Gantt chart. You can see the progress of the project at a glance by clicking "Gantt chart" on the main screen.

Backlog External Service Integration
Backlog can work with external services. This service cooperation can promote various efficiency such as notification and schedule adjustment.

The main services that can work together are:.

Typetalk: Cacoo: Online Whiteboard Service
Slack: Chat Service
Chatwork: Chat Service
Redmine: Project Management Service
Jira: Project Management Service
Jenkins: Code Management Service
iCal: iOS Calendar
CybozuLive: Cybow's Project Management Tool
Google Spreadsheets iOS, Android
Using Backlog as a Wiki Service
Backlog is also available as a wiki tool. Manage your project rules, people, operations manuals, and other stock information in a wiki format.
Headlines and document formatting rules also come with easy-to-understand help, so you can stock up on the know-how in a blog-like experience.
Wiki services are available from the main menu.

Versioning Source Code
Backlog also provides source code versioning. You can use SVN or Git to manage your source code. You can also review the member's commit history for code review and comment on pull requests from members.

Key things you can do with source code control

Key things you can do with source code control
Setting Up a Private Repository
Managing Development Tasks
Source Code Review
Reviewing Commit History
Comments on Pull Requests
At The End
Backlog's one-stop experience with everything from team collaboration to source code management is impressive.
How about considering Backlog for various projects?