This post is also available in: 日本語
Introduction
Google Analytics is an essential tool for service marketing and data analysis, but the Insight feature has been in place since 2019 and continues to evolve.
This article introduces you to Google Analytics Insight.
What is Google Analytics?
Google Analytics is a data analytics service provided by Google.
You can use almost all of the features for free, and it's not an exaggeration to say that almost every site has it.
See the following articles for basic usage of Google Analytics.
What is the Insight feature?
Now I will explain about the Insight function.
The Insight function is a useful function that Google automatically analyzes the data of Google Analytics and gives you information that will give you a hint of service operation.
When you log in to Google Analytics, you will see Insight on the main screen.
Click More Analyses to see more insights.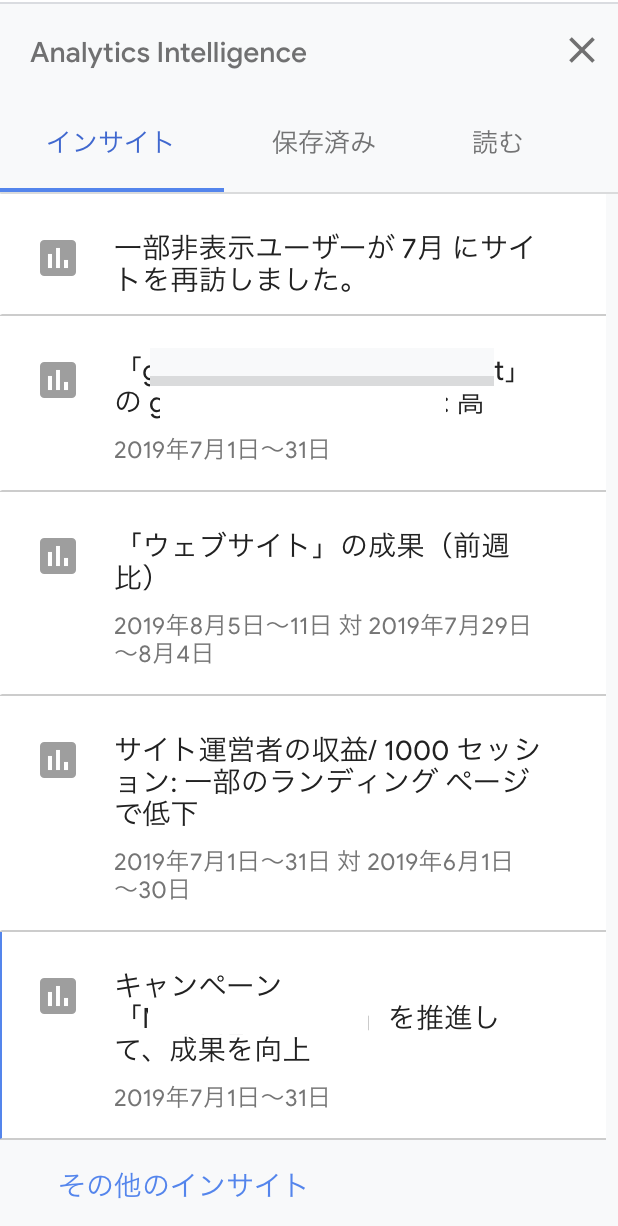 The Insight is being updated infrequently.
For example, it provides the following analysis and topics:.
Social media influx increased by X% compared to last week
Facebook's Incoming Users Stay Unusually Short on Site
Page A has an unusually high bounce rate
I am just plain happy, but sometimes they cheer up the growth of the site lol.
Let's answer whether the analysis report was helpful or not.
The answer data will be used for machine learning and Google will provide you with the best report.
Insight can be saved
You can save the Insight by clicking "…".
The saved Insight can be reviewed later, so you can use it to flag what you need from the saved Insight.
Google Answers Your Questions
It's currently only available on smartphones (August 2019) and in English, but if you enter a question, Google Analytics will give you an answer to the question.
At the moment, there are few questions that can be answered clearly, but it would be very attractive if you could provide a solution in the near future.
And finally,
As you learn more about Google Analytics Insight, you'll be able to push changes in numbers that you wouldn't notice on your own and make your marketing more efficient.
This feature is still under development, but it has the potential to grow into a more powerful feature in the near future.
In Utilities, you'll find tools like Google Analytics that you can use for free, which is a must for marketing. Please read the following article if you like.
10 free services you'll definitely want to use when you start marketing