This post is also available in: 日本語
What is moppy?
This entry introduces the point service moppy.
moppy is one of the largest pocket money sites in Japan.
It can be said that this is a service that can be used firmly as one of the options of side work or home work while using points in daily life.
operating company
The operating company of moppy is Ceres Inc. Ceres was founded in 2005 and is currently listed on the First Section of the Tokyo Stock Exchange. Listing on the First Section of the Tokyo Stock Exchange is very reliable.
scale of moppy
moppy actually has 7 million registered users in total. The scale is overwhelming because a very large number of people are already using it.
How moppy Works
Now let's take a quick look at how point site moppy works.
Revenue from advertisers
fees for exchanging points
Moppy does business mainly in two ways, but the biggest one is the revenue from advertisers.
Let me explain briefly about advertising revenue. If you sign up for an advertiser's service through moppy, moppy will receive a performance fee from the advertiser. It is a system that a user is given a point after subtracting location fee (= Charges) of moppy.
Points can be exchanged from moppy to other companies' points such as ANA miles and LINE points, but there is a exchange rate for points. A small fee is taken from the difference of the exchange.
You can exchange 1 point for 1 yen.
You can use moppy for 1 yen per point. It's easy to understand!
The earned points are recorded in the point passbook and can be checked at any time.
It's fun to save up points in your bankbook!
The minimum exchange fee is 300 yen.
main exchange for moppy
Cash: 1 point for 1 yen
Prepaid card charge: You can charge with a prepaid card.
Gift certificates can be exchanged for Amazon gift certificates, iTunes gift certificates, etc.
Electronic money can be exchanged for d-point, Rakuten Super Point, T-point, etc.
Points of other companies: Can be exchanged for dot money, PeX, etc.
If you have a prepaid card, you can actually use it at VISA member stores!
You can exchange your accumulated points.
How to register moppy
You can register moppy at:. Registration is of course free! You can use it immediately after authenticating the mail address. There is no application for the moppy, so you need to register on the home screen if you want to use it on your smartphone.
The information required for registering moppy is as follows. Please refer to it.
Nickname
Password
Confirm Password
Sex
year of birth
State
unmarried
Authentication Questions (Required when exchanging points or changing registered contents)
the secret answer (Up to 10 hiragana characters)
What can we do with moppy?
What can you do with moppy once you know how it works?
It's very easy. Log in to moppy and take part in an interesting deal.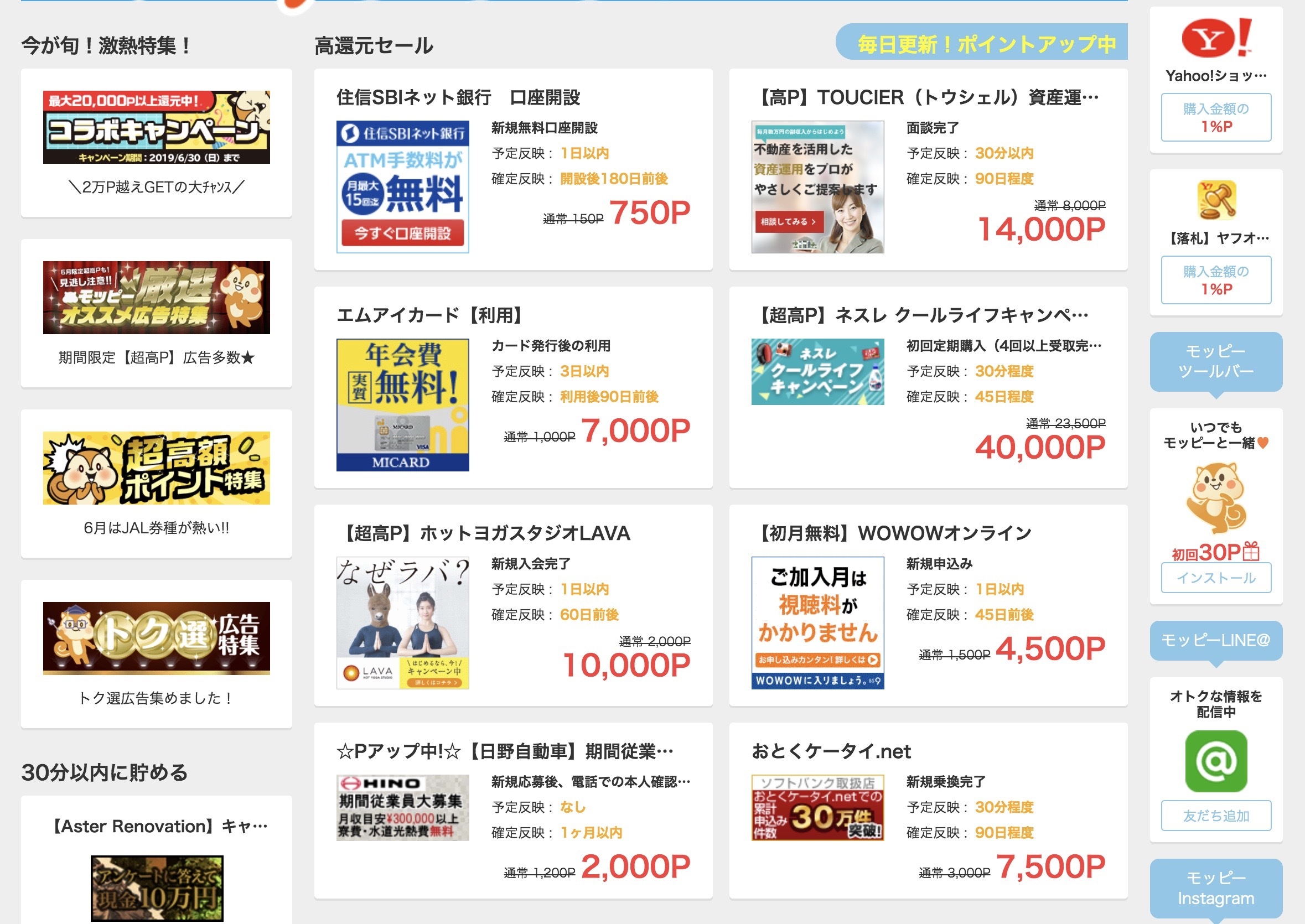 For example, there are the following issues.
credit card application
opening accounts at financial institutions
Shopping from EC via moppy
Register Services
installing apps
Travel booking via moppy
Response to Questionnaire
The main exchange rates are as follows.
Credit card application: 2,000 to 10,000 points
We recommend applying for a credit card because the total amount of points you can get is very high.
Especially for the credit card application, we are running a campaign frequently, so it will be a great deal if you apply during the campaign period.
For example, if you apply for Amex Gold of JAL card now, you can get 25000 points.
*In most cases, if you pass the examination, it will be fixed, so if you apply only, it won't be granted.
*Please note that it may be difficult to pass the screening if you apply for multiple credit cards in a short period of time.
Travel booking via Expedia: 3 to 6% of the price
For example, if you register the travel site Expedia via moppy and go on a trip or stay, you will get a reward point. For a 10,000 yen trip, you get 600 yen worth of points back.
Shopping on Amazon: 0.5% reduction
If you shop from Amazon via moppy, 0.5% of the purchase price will be returned. If you usually use EC, first of all, make a habit of going through moppy and your usual shopping will be very profitable.
Shopping on Rakuten: 1% reduction
Amazonと同様楽天市場もmoppy経由でお買い物をすると1%が還元されます。
EC利用者の方は是非使い分けをオススメします。
1 survey response (1 ~ 3 points)
In moppy, apart from service registration and shopping, there is a service where you can collect points by questionnaire. You can earn points just by answering the questionnaire for a few minutes.
The points themselves are 1 ~ 3 points, but it is attractive because it can be easily done anytime and anywhere.
Refer your friends: 1 with 300 points
In moppy, there is a reward system by introducing friends. It can be said that this is very efficient in collecting points. The contents are roughly as follows.
Just post it to your blog: 50 pts
300 points per registration
Down Remuneration: Friends Get 5 ~ 10% Back
Down rewards are great!
In addition to simply introducing your friend, if the friend you introduced participates in a moppy deal, 5 ~ 10% of the service points will be given to you who introduced you. This is the down payment. It is a system that points are continuously dropped to the introducer by using the service of a friend. It is very wonderful.
prepaid card for moppy
moppy has its own prepaid card "POINT WALLET VISA PREPAID". This means that you can use moppy points at the store by charging the prepaid card directly. You can use it at VISA member shops, so you can use it at almost all shops where you can use a credit card.
You can earn triple points by using a prepaid card!?
Depending on how you use this "POINT WALLET VISA PREPAID", you may be able to triple the points at once. Take Rakuten Ichiba, for example.
Rakuten Ichiba payment card registration set to "POINT WALLET VISA PREPAID"
Shopping at Rakuten Ichiba via moppy
That's all. If you do so, the following route will generate points neatly.
You can earn more points simply by shopping.
Be given a moppy point
Add card usage moppy points
Receive Rakuten Super Points for shopping
This method is not limited to Rakuten Ichiba, but you can use it anywhere as long as you can shop through moppy and use VISA card as payment.
Other ways to save Moppy Points
moppy gacha
Anyone can try the moppy gacha for free. Everyone can get at least one point. You can earn up to 10 points in the normal gacha.
You can win up to 100 points with premium gacha.
You can participate in the premium gacha by collecting 5 stamps that you can participate in the moppy gacha on your PC and smartphone every day.
Moppy English words
You can get points by answering English words in Moppy English words. You can earn points by studying English.
Utilly Side Business Related Entries
There are also plenty of utility side and side job related entries.
Check out the full post below to see what you can do for your side projects.
And finally,
Moppy is a service that benefits from points, regardless of time and place, depending on how you use it. Please use it.