This post is also available in: 日本語
Introduction
The theme of this entry is "side job, side job, parallel work", a work style that has been drawing increasing attention in recent years. Aside from my main job, I have more and more options in my life, such as earning money by improving my skills and challenging my interests. In addition, to support this, it is possible to easily obtain side jobs and secondary income with many services. This entry summarizes the services that are useful for such side projects. Please take a look.
The reason why side jobs and side jobs are drawing attention now
In the first place, why do people now pay attention to side jobs and side jobs? Although we are hearing more and more about the government's reform of working styles, secondary jobs are attracting attention from the perspective of diversity in working styles. Whether it's a side job, a side job, a double work, or parallel work, it's all about taking your strengths and interests and working between jobs.
The number of companies that accept side jobs is increasing.
The number of companies that actually lift the ban on side jobs is increasing rapidly.
According to a survey by Recruit Career Co., Ltd., the following results were obtained.
22.9% of enterprises allow/promote side and/or side jobs
As reasons for allowing/promoting side and/or side jobs, "There is no reason to prohibit it." accounted for the highest at 68.7%.
Major famous companies that allow side jobs (out of order)
NTT DOCOMO Denso/NTT Data/SCSK/Cyber Agent/Recruit Holdings/Pasona Group/Oriental Land/Duskin/Japan Post/Benesse Holdings/Rohto Pharmaceutical/Daiichi Sankyo/Marubeni/Sojitz/Sony/Fuji Xerox/Canon/Japan Post Bank/Fujitsu UFJ Financial Group/Kao/Shiseido/Fancel/Seabon/Kansai/Daikin Industries/IHI/LIXIL Group/Japan Airlines/Taisei Corporation/Aeon/Nagae Group/Suntory
You can see that so many companies are lifting the ban on side jobs.
side job genre
There are various types of side jobs. At Utility, we introduce side jobs in relatively new genres.
Leverage our strengths: Skill sharing services, etc.
No time constraints: crowdsourcing, etc.
sharing assets: sharing services
Financial/Asset Management: RoboAdvisor, Virtual Currency, Social Lending, etc.
Good value: Point exchange service, etc.
Post it yourself: blogs, affiliate services, etc.
Take advantage of your strengths
Coconala – Skills Marketplace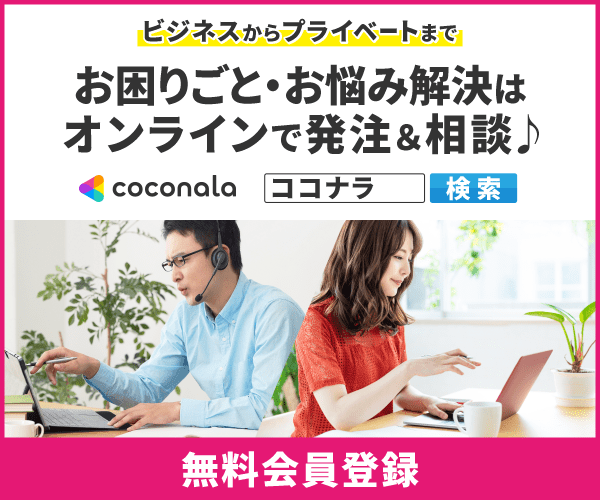 Coconala is a marketplace where you can buy and sell your specialty. You can sell knowledge, experience, special skills, anything you can do from 500 yen. For example, if you are a designer, you can respond to requests for logos and illustrations, create web pages, create icons and profiles, do fortune telling, naming, trouble counseling, and various other services. Sellers and buyers secure credit by scoring each other's listings. Coconala allows you to do side jobs regardless of time or place. It is surprising that there are some sellers of woolly products whose monthly income exceeds 1 million yen.
Do you Know more detail? Check this article.

Utilly(ユーティリー)
スキマ時間で副業・兼業も!自分の得意なスキルを500円から出品できるプラットフォームココナラをご紹介します。…
TASKAJI –
matching services for housekeepers
TASKAJI is a matching service for housekeepers and housekeepers. This matching service allows you to find your favorite housekeeper. For example, we can help you with the theme of "housework" from cleaning, washing, cooking, preparing and storing to organizing your room to child care.
VISASQ – Business Spot Consulting
VISASQ is a solution matching service that provides the knowledge and know-how of business people in the form of spot consulting.
From 1 hour, you can consult the client face to face or by phone. The average reward of 15,000 yen for 1 hour is very attractive. VISASQ currently has 80,000 advisors registered. If you're a business person, you can turn that knowledge into a consulting solution with VISASQ.
Workship
Working is a freelance platform. This is a service where professionals such as designers, engineers, marketers, human resources, public relations and finance provide their knowledge in spots. Working is particularly strong in the digital industry. You can also participate in projects for various periods and working styles, such as on Saturdays, Sundays, once a week, or for a long period of time. First of all, let's try to register for free and find a job you like and how to work.
TIME TICKET
Time ticket is a skill share service where you can buy and sell your time as a ticket from 30 minutes. It is a popular service with over 150,000 members. Popular genres include business consulting, dating consultations, photography and site creation. The average annual transaction amount of an active host is 1.66 million yen, and it is attractive as a service that you can offer what you are good at by ticketing your own time. Compared to Coconala, it can provide a face-to-face solution.
SkillShift
Can contribute to the community on a side job
SkillShift (skill shift) is a community focused side project platform. As a client, you can provide solutions from your expertise without changing jobs or moving. There are various job openings such as public relations, marketing, and project manager.
Be free from time constraints
I think that not being tied to time will be one of the points of the current side job. Providing resources whenever and wherever you want, such as crowdsourcing or working from home, will become the new standard of sidelines. Here are some of the "Be free from time constraints" side projects.
Lancers
Lancers is Japan's largest crowdsourcing service. More than 1 million people, including design, creative, writer and marketer, have signed up. It is attractive that it offers freelance matching projects under various conditions from spot to full time. If you have a large number of projects, it will be easier for you to demonstrate your expertise and specialty, so the largest scale in Japan is a very beneficial service. The service is also focused on building a community among freelancers, so I recommend you to sign up for it!
CrowdWorks
Crowdworks, along with Lancers, is one of the largest crowdsourcing services in Japan and is a synonym for crowdsourcing services.
With 2.72 million users and 2.51 million job requests, this is by far the largest crowdsourcing service in the world. There are more than 200 categories in which you can request a task with Crowdworks! That's a lot. In order to provide solutions in my area of expertise, I would say that the scale of Crowdworks is very attractive because the matching probability increases if there are many projects. There are opportunities to provide solutions that make use of the skills of our core businesses, from input work to the promotion of design projects. You can say it's a service you want to register first.
Sagoo works
Sagoo works is a crowdsourcing service that specializes in writing.
No matter where or when, you can focus on the right lighting project. Over 210,000 writers are registered with Sagoo works! We can say that we have one of the best writer inventories in Japan. Sagoo works deals can be broadly classified into four categories. Simple text creation, text creation that requires expertise at a high cost, deals where you can get points from answering a variety of questionnaires, and checks and proofs of actual written articles. It is very attractive that you can choose various ways of working according to your lifestyle and expertise. If you are good at writing, please register at Sagoo works.
Taimee
Taimee is a one-shot work matching application. While Lancers and Crowdworks are mainly targeted at home, Taimee can be said to be a skill sharing service characterized by serving customers such as restaurants. The appeal of Taimee is that despite the service, there is no application flow such as resume and interview. If you find a job that interests you, you just need to set the time and go to the site! Also, when you finish your work, you will receive a timely payment at Taimee's wallet. It is very attractive that the lead time to get a reward is short.
KIDS LINE
KIDS LINE is a baby-sitter matching service. As the name suggests, you can visit the client's house as a babysitter and take care of your child and do housework. I think it is a very attractive service for those who like children or those who have finished raising children. If you register as a sitter, you can work in any area at any time of the week. Another feature is that you can set your preferred hourly rate from 1,000 yen. It's not a high hourly wage, but it's a highly recommended service for people who like children.
UberEats
Delivery staff at UberEats, a food delivery service, can participate at any time. As long as you have a means of transportation such as a bicycle or a motorcycle, you can receive orders and deliver them at any time using a smartphone application. I think the charm of the UberEats delivery person is not the shift system, but the freedom to decide whether to accept or not at the timing of the issue. If you work in a very flexible way, the delivery person at UberEats may be a good side job.
sharing service
Sharing service is a service that you can get a reward by sharing your assets with people who need them when they need them. For example, services that share items, places, assets, and other items that are still sleeping at home are increasing rapidly.
Anyca
Anyca is a car-sharing service that matches the person who wants to rent a car with the owner who wants to rent a car. For example, people who don't have a chance to drive a car at work on weekdays can make money by sharing the opportunity loss. This service is very attractive to car owners because it makes effective use of the car in the garage. You can rent it for 1 -20,000 yen for 1 day, so you can get a lot of change, not to mention the parking fee, even if it's only on weekends. If you own a car, let's make money by renting.
monooku
Monooku is a sharing service of storage space between individuals. This is a "storage shed" sharing service that matches people who have extra space at home with people who don't have space to put things.
If you have an unused storage room in your house, you can use that space to monetize it, which is a revolutionary service. It is attractive that it can be used effectively as long as there is space such as unused closet or vacant room. As for the monthly space profitability, monooku says it's around 5000 yen per month.
monooku
akippa
Aqippa is a sharing service for vacant spaces such as parking lots. If you have spare space such as your home or office, you can make profit by sharing it.
For example, if it's within 23 wards of Tokyo, the profitability is roughly 20,000 yen per month. If you have a free parking space at home, I recommend you to register with Aqippa. It is a very attractive service for those who have spare parking space at home.
Free Market App
It can be said that a flea market application is a service that has taken root rapidly in the past few years. The appeal of the flea market application is that you can easily list clothes and things you no longer use at home just by taking a picture with your smartphone and making a simple introduction.
mercari
It is Mercari that makes the position of the flea market application permanent. Mercari is the king of flea market apps and the largest service in Japan with tens of millions of users. Mercari is an application that you can easily list clothes and accessories you don't need anymore on your smartphone. We can solve many of the troublesome interactions and adjustments with buyers by having Mercari in between. You can list Mercari by taking a picture of the product you want to sell and writing the product description.
It can be said that it is very attractive that it leads to income by recycling unnecessary things well.
Rakuma
Rakuma is a flea market app run by Rakuten. Basically, like Mercari, you can take photos of things you don't use at home and list them. It can be said that Rakuma has a feature that the handling charge is cheaper than Mercari. In particular, the 10% handling fee for Mercari is more than double the 3.5% for Rakuma, which is very attractive. Rakuma also offers Rakuten Pay. This is an advantage of Rakuten service. You can buy products with Rakuten points. If you want to be particular about the fee, please try to list on Rakuma!
minne
If you are making handmade products as a hobby, I recommend you to sell them at minne. Minne is a marketplace that matches people who want to sell and buy various handmade products. It is operated by GMO Pepabo. There are many works on minne. You can find a wide variety of works, from practical to artistic, to suit your taste. For example, if you've created accessories, accessories, accessories, or interior decor, I recommend listing them on minne. Just looking at other people's works makes me excited.

Investment/Asset Management
If you have a certain amount of money, you can invest and manage assets and earn money without working yourself. Of course, investment and asset management can be profitable or you can lose money, so it's a good idea to understand your own asset situation before you work on it. In particular, Utility introduces a new alternative to Investment/Asset Management Services.
THEO
THEO is an asset management service called RoboAdvisor where AI manages assets. Just enter the amount and style of investment in advance, and RoboAdvisor will run it automatically. I would say that the hurdle to starting with THEO is very low because you can start saving from 10,000 yen. If you don't know where to diversify or what to do in the first place, THEO is a good place to start.
WealthNavi
WealthNavi, like THEO, is managed by a RoboAdvisor. By answering 5 to -6 questions in advance, such as age and asset status, AI creates an optimal portfolio. WealthNav manages a huge amount of money exceeding 140 billion yen in custody, and is the No.1 service in Japan. You can start asset management with a deposit of 100,000 yen or more.
FOLIO
FOLIO is an online brokerage service. Its feature is "theme investment". When you invest in a theme, you just pick a theme that interests you, such as "Kyoto" "space" "petroleum" or "AI" and Folio will manage it for you in the optimal portfolio. If you don't like looking up specific stocks, or if you're interested in a particular theme, FOLIO's theme investment is a great way to get started. The easiness to invest from 10,000 yen is also attractive. FOLIO also offers a "discretionary investment" service that allows you to invest from ¥100,000 in a separate menu. As the name suggests, RoboAdvisor will help you with asset management.
SBI NEO Mobile
The official name of SBI NEO Mobile is "SBISBI NEO Mobile". It's a group company of SBI, so I feel safe. SBI NEO Mobile is characterized by its ability to invest in stocks at T points. It is very attractive that I can buy stocks with saved points because the risk is low.
Also, you can buy 1 share from 500 yen at the minimum. The hurdle is low to the limit. If you're a beginner and want to see how stock trading works, or if you're a regular T-point earner, why not try SBI NEO Mobile?
SBI Social Lending
As its name suggests, SBI Social Lending is a loan crowdfunding service operated by the SBI Group. Social lending is a scheme where the person who wants to borrow money gets the investor who wants to lend money to invest in the project. SBI Social Lending can be invested from ¥10,000. Also, you can get a monthly distribution. If you have a project you want to support, please try social lending.
Point/Monitor Service
The way to earn an income without worrying about the place and time is to use the point and monitor service. You can get redeemable points just by shopping or registering through the point site. You can use it at a good price, for example, you can pay with points at a store or exchange it for miles. As for the monitoring service, you can get points by using the product or by writing your impression of the experience at the store. The Utility will introduce you to key point and monitoring services.
moppy
Moppy is one of the largest point exchange sites in Japan. If you register for the service or go shopping through a moppy, you can get a moppy point of 1 point for 1 yen. You have a variety of options such as exchanging your moppy points for miles, cashing them or using them for payment at stores. The hurdle to participate in the project is low, so please check it out if you are interested.
Hapitas
Hapitas is another high-return point site. If you try any item from more than 1000 items, you can exchange 1 point for 1 yen. You can earn Hapitas points by shopping through Hapitas or by registering for various services through Hapitas. The Hapitas points you earn can be exchanged for miles or for points from other point sites. There are various issues, so please take a look at them.
MACROMILL
MACROMILL is one of the largest monitoring and questionnaire services in Japan. MACROMILL is the number one company in the online survey industry and has a large number of projects. If you register for MACROMILL and answer the questionnaire, you can get points. You can exchange your points with other points sites. If you are an office worker, you can receive a questionnaire for office workers, and if you are a housewife, you can receive a questionnaire for housewives. Therefore, it is important to enter your profile properly.
blogs, affiliates
You can earn money by creating a blog or WEB media, or by posting on SNS by yourself. If you become more influential, you can be introduced as an influencer, or you can earn affiliate income or Adsense income from advertisement on blog. In Utility, we introduce mainly affiliate services that introduce various projects.
A8.net
A8.net is one of the largest affiliate service providers in the country. When you create your own media or blog, register at A8 to find affiliate deals that fit your media direction. For example, in the case of business media, business advertisers have a high degree of affinity, and in the case of housewives, women's issues such as food and cosmetics have a high degree of affinity. Since each case is individually listed, it is necessary to "alliance".
It ranges from several hundred yen to several tens of thousands yen per case, and the reward you want to earn will be transferred to the account you registered as cash. Please take a look.

Access Trade
Access Trade, along with A8Net, is one of the largest affiliate service providers in the country. Access Trade is also a very large affiliate service with nearly 5000 advertising deals. If you want to monetize your media, I recommend you register.
Access Trade
afb
afb is also a popular affiliate service provider. It is recommended to register in the same way as A8.net and Access Trade above. I recommend you to register to multiple affiliate sites. This is because the items handled by each site are different and the unit price is different. I recommend you to register by horizontal comparison.
And finally,
Needless to say, the number of side jobs is increasing nationally, but when you actually started to think about side jobs, you knew that there were many different ways of doing them. There are so many options from working at home to investing and point sites, so please choose what you are interested in. This completes the service summary useful for [Preserved in 2019] side jobs, side jobs, and parallel work.