This post is also available in: 日本語
Introduction
Managing followers and posts on twitter is often complicated. This article introduces SocialDog, a Twitter operation tool. Of course, you can use it for business twitter accounts, and it's also a useful tool for private accounts to understand follower trends and manage posts.
How to register SocialDog
You can register for SocialDog at the official page below.

Registration is very easy. Click "Start with Twitter". After that, enter the ID and password of the account you want to connect to twitter. After that, the connection is completed automatically.
Once registration is completed, you can log in with your twitter account.

Fees for SocialDog
The price of SocialDog is 3 plans. There is a free plan.

Free Plan
Free plan is a free plan. Limited usage instead of full functionality.
The Free plan can be used at the minimum.
Federated Account Limit 2
1 day follow limit of 25
20 new followers acquired
3 keyword monitors
Basic Plan
The Basic plan is 780 yen per month. It's called Take in Shochikubai, and it's the plan in the middle. Compared to the Free plan, various upper limits have been greatly increased and advanced follow-up management functions have been added.

Federated Account Limit 2
1 day follow limit of 1,000
200 new followers acquired
10 keyword monitors
Advanced follow management capabilities
Pro Plan
The Pro plan is the most advanced plan at 3,980 yen per month.The limit is significantly higher and all features are available.
Federated Account Limit 2
Unlimited daily follow-up
5,000 new followers acquired
100 keyword monitors
Advanced follow management capabilities
Advanced Analytics
We are currently running a 14 day free trial campaign for a limited time.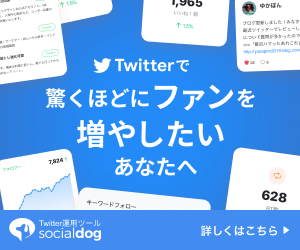 What We Can Do With SocialDog
SocialDog has a lot of features. I will introduce briefly.
The SocialDog dashboard looks like this:. You can check various basic indicators in the first view.
Recommended action is recommended. This makes it easy to manage users with various flags such as not followed, not followed, or not active.

Follow / Unfollow
SocialDog makes following management easy. Click the "Follow" menu at the top of the screen.

"+ Follow" "Unfollower" appears to the right of the accounts displayed.
From here, you can follow or unfollow with one click.
The filter function is very rich, so you can sort out various cases.
For example, recently you can "Releasing Inactive Followers" or "Follow your recent Twitter followers".

Tweet Analysis
SocialDog has a lot of tweet analytics.
Click "Analysis" at the top of the Home screen.
As for "Follower Acquisition Analysis", you can see the change of followers, new followers, and the removal of new followers in the time series graph. You can adjust the period freely after the collaboration.
Other items such as "Follower Acquisition by Keyword/Account", "follow-up back rate" and "Follower Follow Rate" can be analyzed.
*The free plan has limitations, so you need to move to the paid plan.
Keyword Follow
SocialDog has the ability to follow specific keywords. You can register keywords by clicking "inbox" in the upper main menu.

The Keyword Monitor screen appears. You can add more and more keywords you want to monitor by putting them in the window and clicking "adding". You can check the registered keywords on the dashboard or receive them regularly by email.
Reserved Tweets
SocialDog has a reservation posting feature. You can also use it from "Tweet" at the top of the main menu. The following management screen appears.

You can manage your reserved posts by lists and calendars.

Daily Report
SocialDog has an inbound and outbound reporting feature. Once a day, you will receive a summary of your account status at your registered email address.

Follower copy
SocialDog has a follower copy feature. The follower copy feature allows you to view the followers of a configured conflict account. For example, you can follow followers of competing accounts.

Action Agent
This is a function that allows SocialDog to take the action you set, such as following XX. You can use the top main menu/follower > left menu/action substitution.
For example, if you're "I want to follow 1000 new people, but I don't have much time." you can sign up for a follow up and SocialDog will take care of it.
Readiness is listed in the dashboard.

At The End
This is SocialDog's introduction. The social dog is currently running a campaign where you can use the paid plan for 14 days for free. Why don't you try this as an opportunity?

U-TILLY offers tools like SocialDog to help you work more efficiently. Please refer to the following entry if you like.