This post is also available in: 日本語
Introduction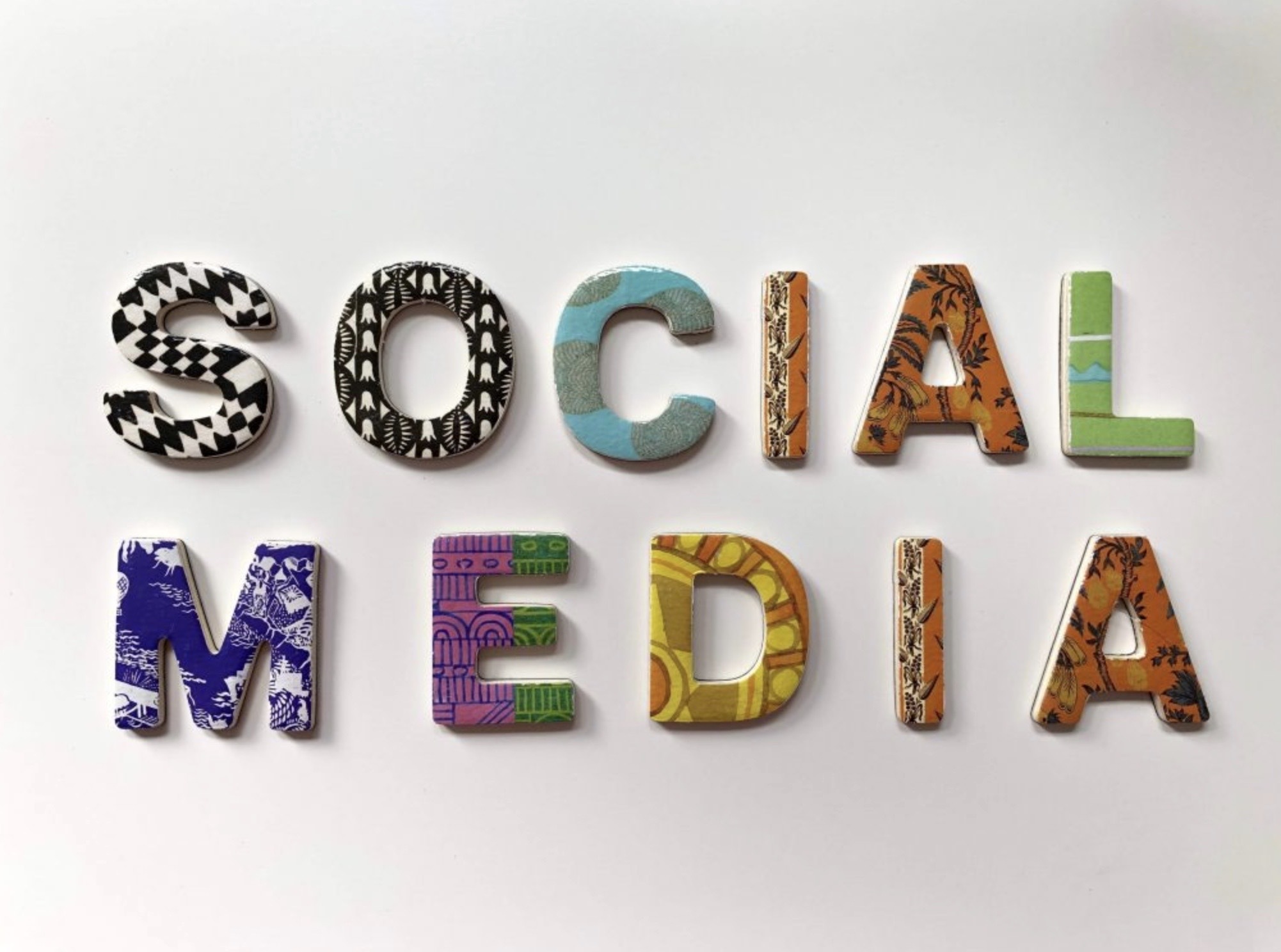 Of course, the influence of SNS word-of-mouth is getting stronger year by year. In this article, we introduce tools to analyze SNS such as twitter and Instagram mainly for those in marketing department.
What are SNS analysis tools?
As its name suggests, SNS analysis tools are tools that can analyze various indicators related to SNS. The main media used for the analysis is social media such as twitter, Instagram and Facebook, and you can obtain and analyze the content of posts, positive negative engagement, and indicators related to following.
Why SNS Analysis is Needed
Growing interest in VOCs
Have you ever heard of the word VOC (= Voice Of Customer)? VOC refers to the analysis of customer feedback. In recent years, there have been an increasing number of opportunities to hear about the importance of VOCs at business sites. Social media is important in terms of both quality and quantity in order to listen to the opinions of customers, so the need for analysis of social media is growing year by year.
Have a real-time nature (= immediacy)
In particular, twitter is very real-time, and when a bug occurs, or when there is positive news about a product, or when a product appears in a news or commercial, the topic can spread quickly. For this reason, companies need to keep an eye on twitter tweets so that they don't miss the voices of consumers.
Quantitative visualization of users' voices
By analyzing SNS, we can quantitatively visualize the user's voice. What's really exciting is that there are tens of thousands of people talking about it, and if it's positive or negative, you can use social network analysis tools to get a quantitative sense of everything.
Analysis of Competitors and Benchmark Companies
Similar to users, the resolution of competitive analysis will be higher if you use SNS. It will be possible to analyze details such as the size of followers, what kind of posts are highly engaged, and what kind of strategies are used. As you can see, SNS analysis is an indispensable topic for business. Here are some of the tools you can use to analyze your social networks.
Hootsuite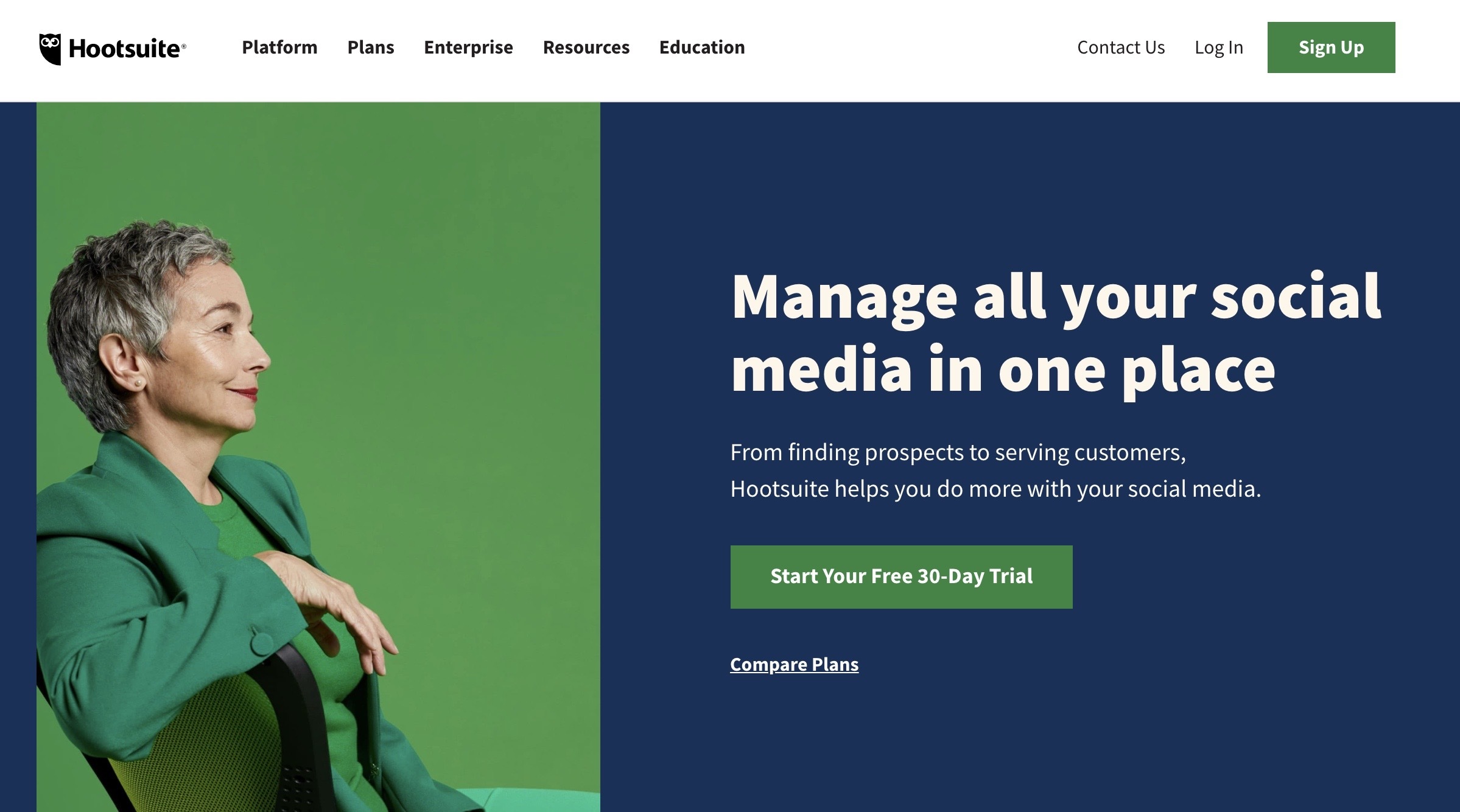 Hootsuite is a free social network analysis tool. It's a well-established SNS tool, and many marketers are familiar with the owl logo. Hootsuite (footsuites) analyzes Twitter, Facebook, LinkedIn, and more.
Free SNS tool
View mainstream media including twitter, Facebook and LinkedIn
social listening tool
TweetDeck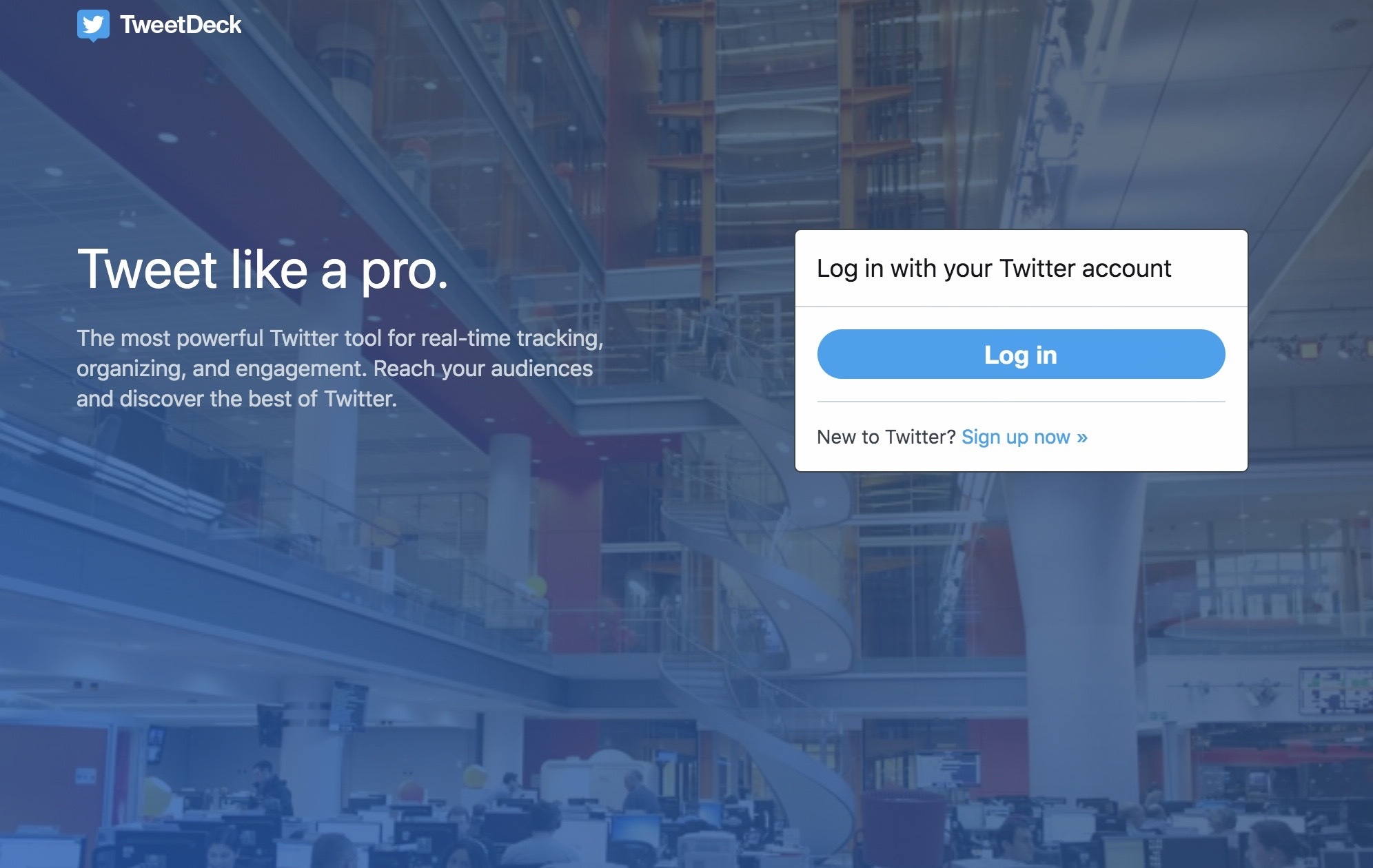 TweetDeck is a free, twitter-specific tool. It is a tool that you can see all the designated accounts and keywords on twitter by making them into a timeline. It is a tool mainly used for twitter patrol. You can tweet directly through TweetDeck.
twitter-specific social listening tool
Watch multiple tweets and accounts in parallel
free tool
Socialdog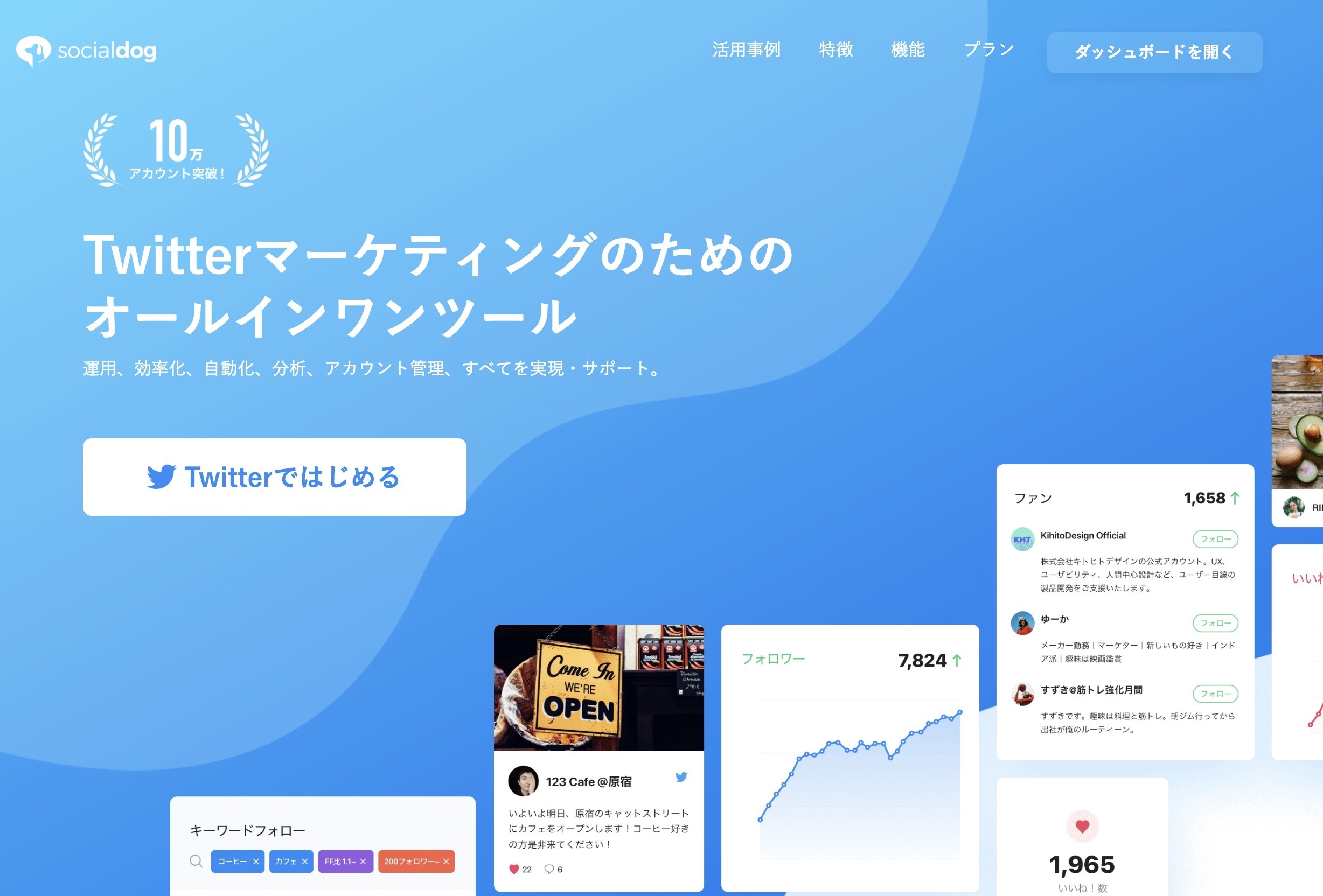 Socialdog is a social network analysis tool specializing in twitter. You can analyze many indicators by twitter alone such as follow, follower management, and tweet analysis with an easy to understand UI. Socialdog is a very useful tool because it is available for free and can also be viewed through a smartphone app. There are also unique functions such as follow and reaction agency of likes.
You can read more about the social dog here.
Introducing SocialDog, a versatile and easy-to-use twitter operation tool
twitter-specific analysis tool
be free and available with a smartphone app
Action agency such as follow and like is possible.
Social Studio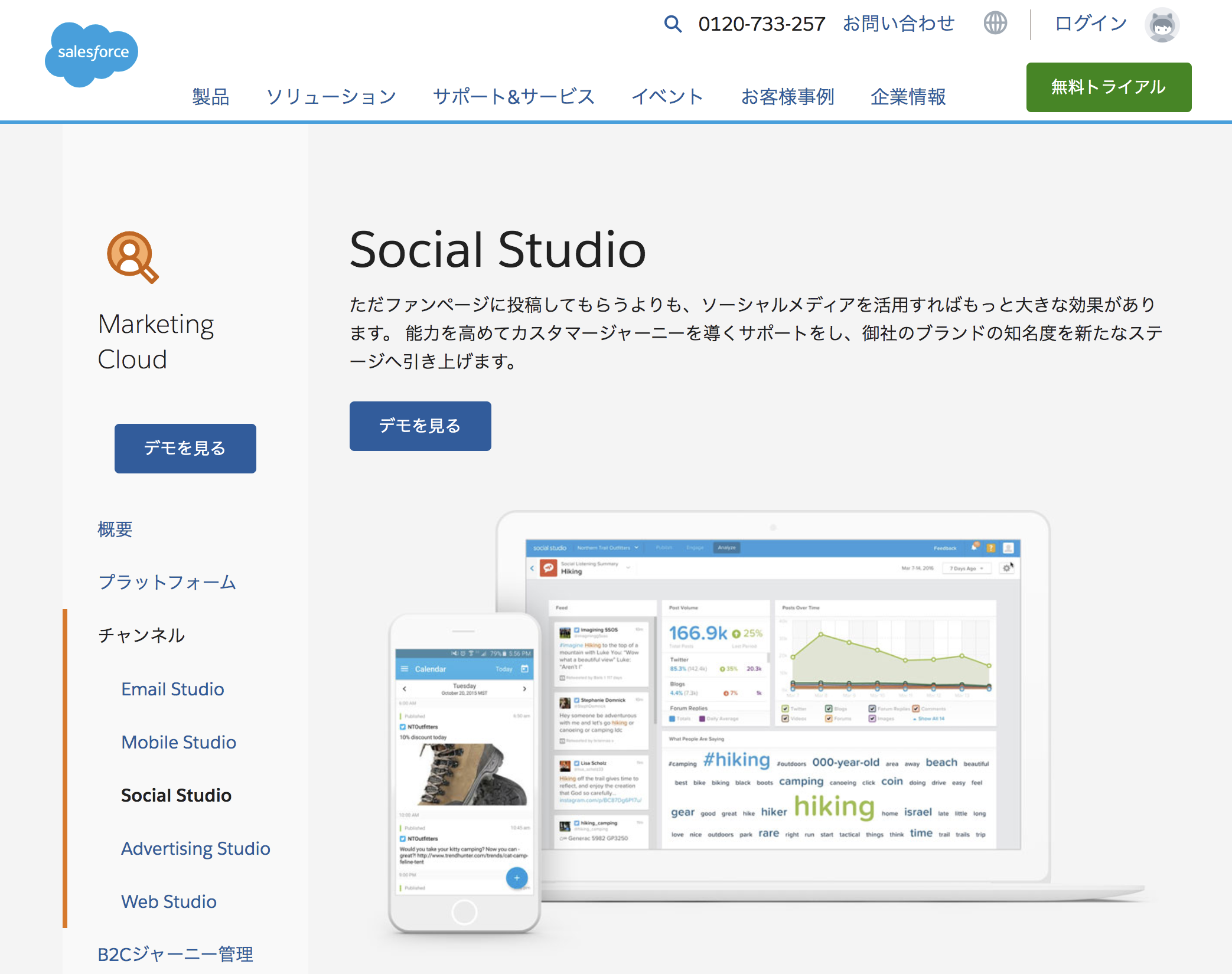 Social Studio is a social listening tool from Salesforce. It also integrates with Salesforce's Marketing Cloud, making it a very compatible social networking analytics tool for companies that use Salesforce products. It can analyze Twitter, Facebook, LinkedIn, YouTube, Instagram, Google +, and more. There are some interesting features introduced, such as image analysis using AI.
Integration with Salesforce products such as Marketing Cloud is a strength
Enables analysis of key media
Lastly
From free to professional, we introduced tools for social listening and social networking analysis. Let's aim for more effective SNS operation by grasping the characteristics of each tool.