This post is also available in: 日本語
Introduction
This article is about the explosive growth in the use of videos due to the penetration of smartphones.
Today, you can easily share videos you've taken with your phone to social networks like Instagram or video services like YouTube.
Here are a few video editing apps and services you can use to make your videos more effective.
Types of video editing applications/services
Even though it's a video editing service, there are many features depending on the purpose and use.
App Type: Edit as a smartphone app
Cloud: Cloud-based video uploads and edits
The app type has advantages such as easy posting to SNS and quick processing. The cloud type is more effective for more serious editing.
Video editing apps on smartphones
First, I will introduce a video editing application.
There are a lot of different apps for video editing, but here are some of the best ones to keep in mind.
iMovie
iMovie is synonymous with video editing apps. iMovie is a video editing application provided by Apple. It's a familiar app for iOS users because it comes standard on the iPhone and iPad.
You can easily make a movie by combining movies and photos in your smartphone. You can also create a movie using a template, so it's an app for entry users called "First, I want to make it easy and crispy.".
iMovie Benefits
・After all, it's Apple's genuine application that comes with iOS as standard!
・Basic editing is exhaustive
Adobe Premiere Rush
Adobe Premiere Rush is a serious video editing application provided by Adobe.
It's a serious video editing app packed with high quality features like slow motion, high speed motion, and rich graphics templates.
You can use it up to 3 times for free. It costs 1,058 yen a month for unlimited writing.
Advantages of Adobe Premiere Rush
Anyway, high spec and high quality! Editing apps for creators
Quik
Quik is a video editor provided by GoPro.
With just a few taps, you can edit your favorite videos on your phone or on GoPro. Machine learning analyzes videos and creates the best effects.
It's easy, but it's high quality.
Quik Benefits
You can edit GoPro easily!
The machine learning editing correction function feels good.
VivaVideo
VivaVideo is an app that allows you to easily add effects to your video or add it to your music.
It has hundreds of kinds of copyright-free background music and sound effects, so you can enjoy editing videos. It also has rich effects such as beautiful skin selfie mode that is supposed to be posted on SNS.
Viva Video Benefits
You can easily create video effects!
There are plenty of sound effects and background music, so you can make your own story.
Clips
Clips is a video effects app from Apple.
There are a lot of things you can enjoy in terms of entertainment, such as putting stamps on your favorite videos and adding interesting effects.
This is a pop video editing application that can use portraits of famous contents such as Disney and Pixar.
Benefits of Clips
You can use the portrait right of Disney or Pixar for stamps and effects!
Splice
Splice is a simple video editing app.
It is a video editing application with basic functions such as trimming, connecting and editing between videos, and inserting text.
Benefits of Splice
An editing app that is simple enough to use.
InShot
InShot is an app that lets you edit your videos into effects of your choice.
In addition to trimming and combining, you can add music, emoticons, filters and edit various movies.
InShot Benefits
Application useful for small effects and processing
Vimeo
Vimeo is an iPhone app for video sharing service Vimeo. You can edit the video you took with iPhone.
It's not an advanced editing feature, but it's good enough to use for free. Of course, you can also share to video sharing service Vimeo.
Vimeo Benefits
If you're a Vimeo user, it's easier to use!
Intuitive, full-featured experience
Video editing services available in browsers
Following the application, I will introduce a video editing service that can be used in a browser.
Compared to smartphone apps, I think it has a feature that you can edit more seriously.
WeVideo
WeVideo is an online video editor service that allows editing in the cloud.
The biggest advantage is that it's a sort of device-free service that you can install from the Google Chrome extension, or use with the iOS and Android apps, and you can easily edit videos by linking directly to Google Drive or Dropbox.
WeVideo Benefits
Easily accessible via Google Chrome extension
Connect to Facebook, Instagram, Flickr, Google Drive and Dropbox for video editing
There are over 100 royalty-free effects.
kizoa
Kizoa is an online video editing service.
You can easily create a slideshow by inserting existing photos and videos into a template provided by kizoa.
You can use it on iPhone apps as well as in the cloud.
Benefits of kizoa
Easy to create slideshows
Collage feature that lets you easily combine photos and videos
Data can be stored in the kizoa cloud
Clipchamp Create
Clipstamp Create is a free video service.
With the cloud service, you can check videos in real time while editing them.
You can also use basic video production features like crop, cut, crop, rotate and speed control for free.
*In the free version, videos will be watermarked with Clipstamp Create (Be removed in paid versions).
Benefits of Clipstamp Create
Most features available for free
Simple to use for quick editing
Online Video Cutter
The Online Video Cutter is a great option for quick video editing. You can access the top page and upload the movie as it is and edit it.
*Free video up to 500 MB
Benefits of the Online Video Cutter
You can upload it without any troublesome registration.
Quickly perform minimal editing, such as trimming
Vyond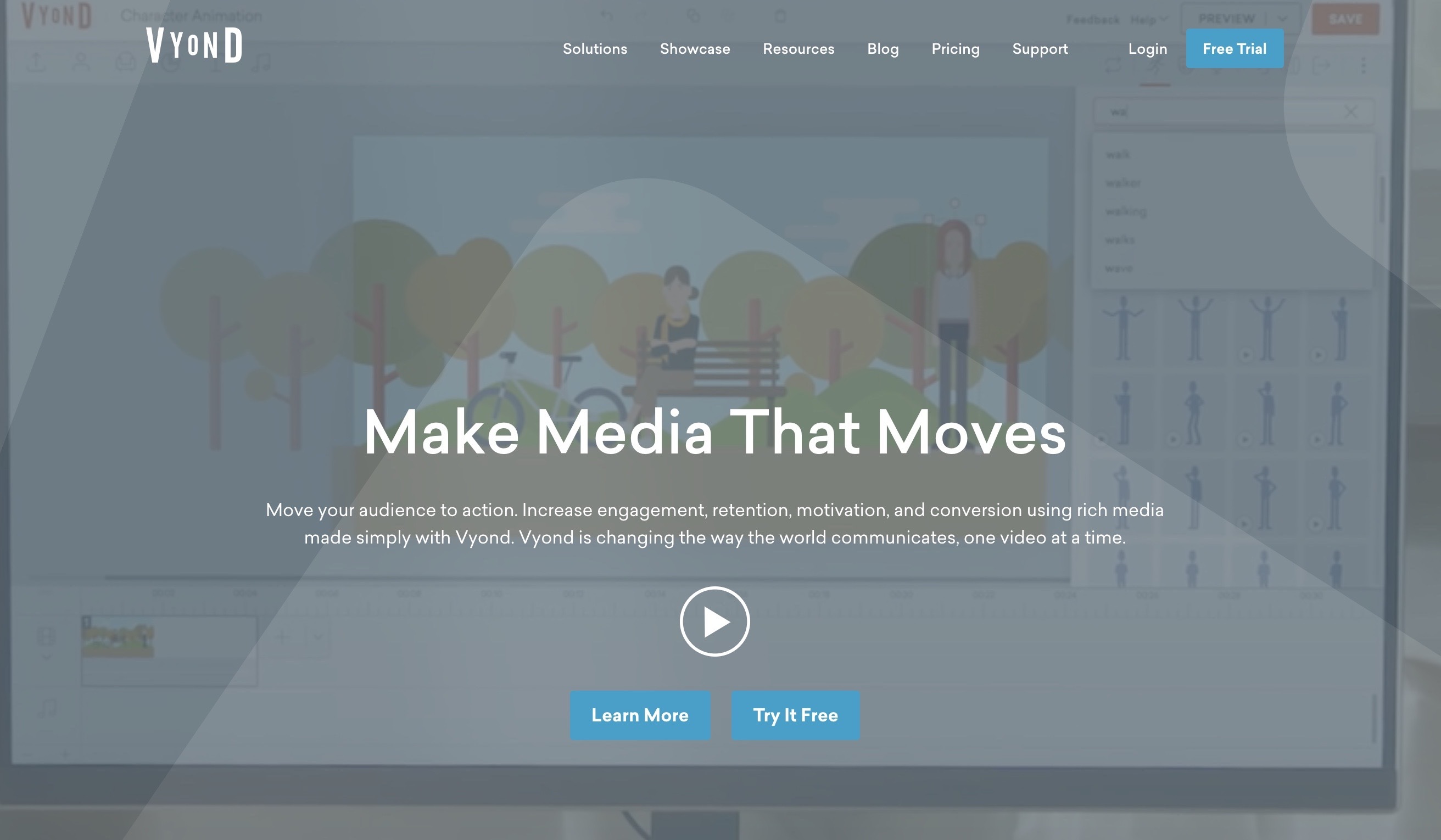 Vyond was originally renamed by an animation editing service called GoAnimate.
Vyond is a service that allows you to create animation videos effectively.
Various templates are available for creating animations, and various functions such as moving the background and characters, adding sound effects, and adding tickers are also available.
Vyond Benefits
Create animated movies using templates
Full range of animation effects
And finally,
There are many types of video editing applications and services.
If you want to do some serious editing, or you want to do some quick editing, you might want to search for your favorite editing UI.
That's all for the video editing apps and services.