This post is also available in: 日本語
Introduction
From Amazon, Facebook, twitter to various applications, I think there are many opportunities to use services every day. In that case, managing passwords is troublesome.
While we know that having the same password around is a bad security practice, it can be difficult to manage passwords one by one.
LastPass is a great password manager.
Password management is LastPass
LastPass is a service that allows you to manage all your passwords at once.
Not only the PC web, but apps, tablets, the Apple Watch, and many other devices are all in one place. You can use it for free.
How to register LastPass
You can register LastPass at the following official site:.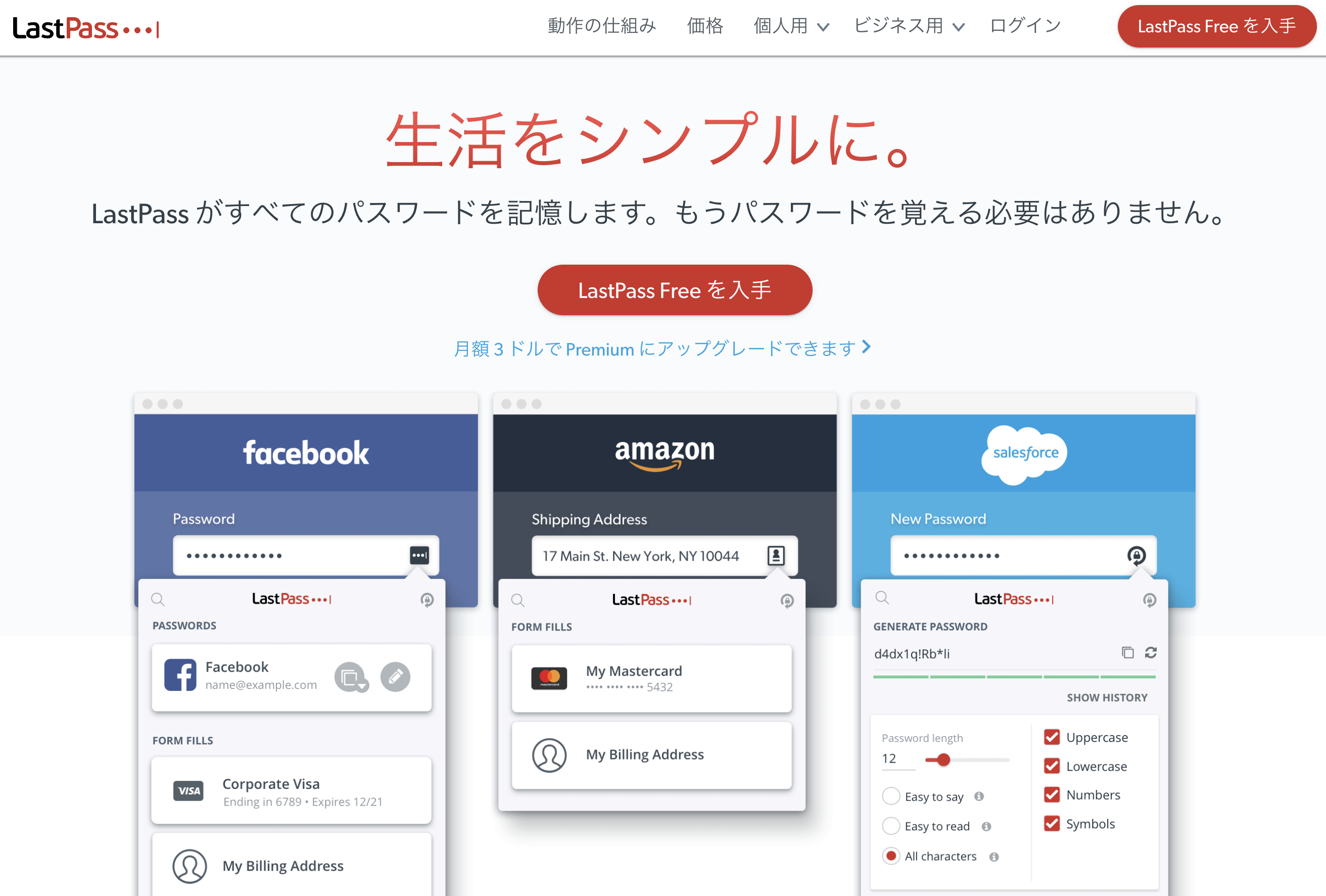 LastPass also lets you install apps from App Store and Google Play.
LastPass account creation
Create an account on the account creation screen below.
Enter your email and master password to create an account.
The master password is the password that you can use to log in to LastPass.
This will be very important, so let's think carefully. LastPass has a tip for the recommended strength.
Let's see how to use it as soon as the account registration is completed.
How To use LastPass
Here's the main LastPass page:. The main page displays a list of pages with password management.
Install the Chrome extension
To get the most out of LastPass, you'll need to install the Chrome extension.

Install the Chrome extension

If you install the extension, it will recommend your ID/password when you log in to the site.

Registering sites
Add a new site from "+" in the lower right.
Site URL: The URL of the site.
Name: Type the name of the site.
Folder: You can set any folder name. For example, finance, shopping.
UserName: This is the ID required to log in to the service.
Password: Enter the password
Register a secure note
LastPass also lets you keep track of the notes you want to secure.
For example, bank account, account number and driver's license number are applicable.
Select "+" at the bottom right of the main page and select Secure Note.
Name: Name the secure note.
Folder: Name the folder for the secure note. For example, a bank or a contract.
Note type: Select by type of entry.
Attachments: You can attach materials.
Form filling
LastPass has a handy feature for filling out forms.
You can register your profile information such as address and credit card information first. This saves you the trouble of entering your address each time you register for a new service.
What is "Enable Free Credit Monitoring"?
This feature alerts you to sudden changes in your credit card. Security options to monitor for signs of identity theft.

Shared Center
The Sharing Center is a feature that allows you to share certain filters with others.
For example, it is easy to understand if you share the NETFLIX password with your family. Since the shared center is a function of the paid plan, this entry is omitted.
Security Challenge
LastPass has an interesting feature called Security Challenge.
This allows you to investigate how secure your password management is. It is actually scored. Let's click Show Score.
Enter your master password and your security score will appear as shown below.
It shows your safety score, your LastPass ranking, and your master password score.
It's also great that specific actions are suggested to improve the score.
In particular, some sites with weak passwords have been pointed out, and we can actually improve it.
LastPass is a great way to manage security and improve security literacy.
Emergency access
Emergency access allows you to grant access to trusted friends and family in the event of an emergency. This is also a paid plan.

Password generator
LastPass makes it easy to generate passwords.
You can set details such as password length, character type, and no symbols.
You don't have to remember the password because LastPass remembers the generated password. This is also very useful.
Available from "Other Options" > "Generate Secure Password" on the main page.
You can also click the Chrome extension.
LastPass Convenience
LastPass is a very useful security service that, with the Chrome extension installed, you can log in with just one touch on the ID/PASS input screen of a registered site, and it automatically recommends your information when you register to a new site. Please use it.
And finally
This is the end of the introduction entry of the password management tool LastPass.